EXCLUSIVE D. GARY YOUNG INTERVIEW
Success is not a matter of chance, it's a matter of choice.
Everyone wants to be successful, but not everyone is. What is the difference between those who achieve their goals and dreams, and those who don't?
Studies show that the most successful people in life are those who find mentors and learn from the success of others. That's the basis of the Man Up Project—stepping up to who you are, so you can be an example and help others step up to who they are.
How do you build a multi-billion dollar business from scratch?
There aren't many people in this life who can say they've built a multi-billion dollar business with their bare hands. Gary Young certainly has. In this exclusive video, Scott Schuler, Young Living Royal Crown Diamond and founder of the Man Up Project, interviews Gary Young for the business section of his forthcoming book, "Man Up…It's hard to resist a bad boy, even more so a good man!"
SEE THE FULL 30-MINUTE INTERVIEW NOW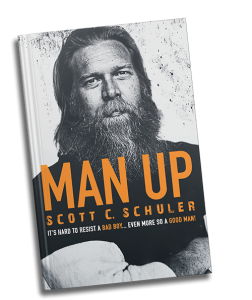 Scott's book, "Man Up" contains life-changing wisdom and more examples of successful men in business, family, health, and more. For a LIMITED TIME ONLY, when you reserve your copy by preordering on Amazon, Barnes and Noble, or wherever books are sold, you'll receive this entire 30 minute exclusive interview with Gary Young absolutely FREE! Best of all, you won't even be charged for the book until it is shipped and you'll receive the lowest price available from the retailer!This video is not available anywhere else so make an investment in your success and preorder your copy of "Man Up" today! Learn Gary Young's secrets of success and apply them to your everyday life!
Step 1
Step 2
Submit your purchase confirmation below…